Coffee Cakes
Almond Rings
A customer favorite! Generously filled with our homemade almond paste filling and topped with sliced nuts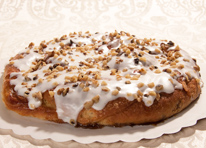 Walnut Ring
Made with brown sugar and walnuts—gooey sweet and delicious!
Butter Ring
Plain danish dough frosted and topped with cherries. Perfect for those who do not prefer fillings.
Cheese Crumb Ring
Danish coffee cake filled with cream cheese filling and sprinkled with streusel topping and dusted with powdered sugar
Placek
Light sweet dough bread with  raisins and streusel topping. These delicious loaves are available in our large or mini size and can be sliced upon request. If you prefer, you can special order without raisins.
French Pastry Horseshoes
Light flaky pastry shaped into a horseshoe and filled with any fruit available. Daily flavors include apple, blueberry, cherry, pineapple, peach, raspberry and apricot.
Apple Raisin Bread
Filled with chopped apples, raisins, cinnamon and generously frosted.  Delicious when warmed in a toaster oven.
Cinnamon Raisin Bread
A light bread that is filled with raisins and cinnamon, sliced and ready for your toaster. These wonderful loaves are available in our large or mini sizes and can be special ordered without frosting.
Dutch Apple Coffee Cake
We start with a thickened cake batter and generously top with sliced apples, streusel, cinnamon sugar and finish with drizzled icing. Looks great and tastes better!
Cinnamon or Crumb Topped Sweet Dough Coffee Cakes
Traditional plain coffee cake available with either cinnamon or crumb topping. Nice for breakfast!
Old Fashioned Open Face Coffee Cakes
Available in apple cinnamon, cherry crumb, peach crumb. Special order flavors include apricot crumb, blueberry crumb and raspberry crumb.
Long Fruit Danish Coffee Cakes
Daily flavors include apple, cherry, raspberry, pineapple cheese and cherry cheese. Special order flavors: Apricot, blueberry, cheese, peach, strawberry, pineapple, apricot-cheese, blueberry-cheese, peach-cheese, strawberry-cheese, raspberry-cheese, apple-cheese